Hello there,
​
​
Today I want to share with you a few notes about drawing. As you know, I have been deep in reflection about what it means to draw and why it took me so long to understand the simplest of truths:
Drawing is seeing and mark-making about what you see. It isn't (only) a perfectly rendered drawing which, of course, you want to achieve is admirable, but after going through a lot of effort, I decided to turn my back on that and trust my own marks.
​
What I want most is to find them interesting, not beautiful. And it seems I am achieving this.
​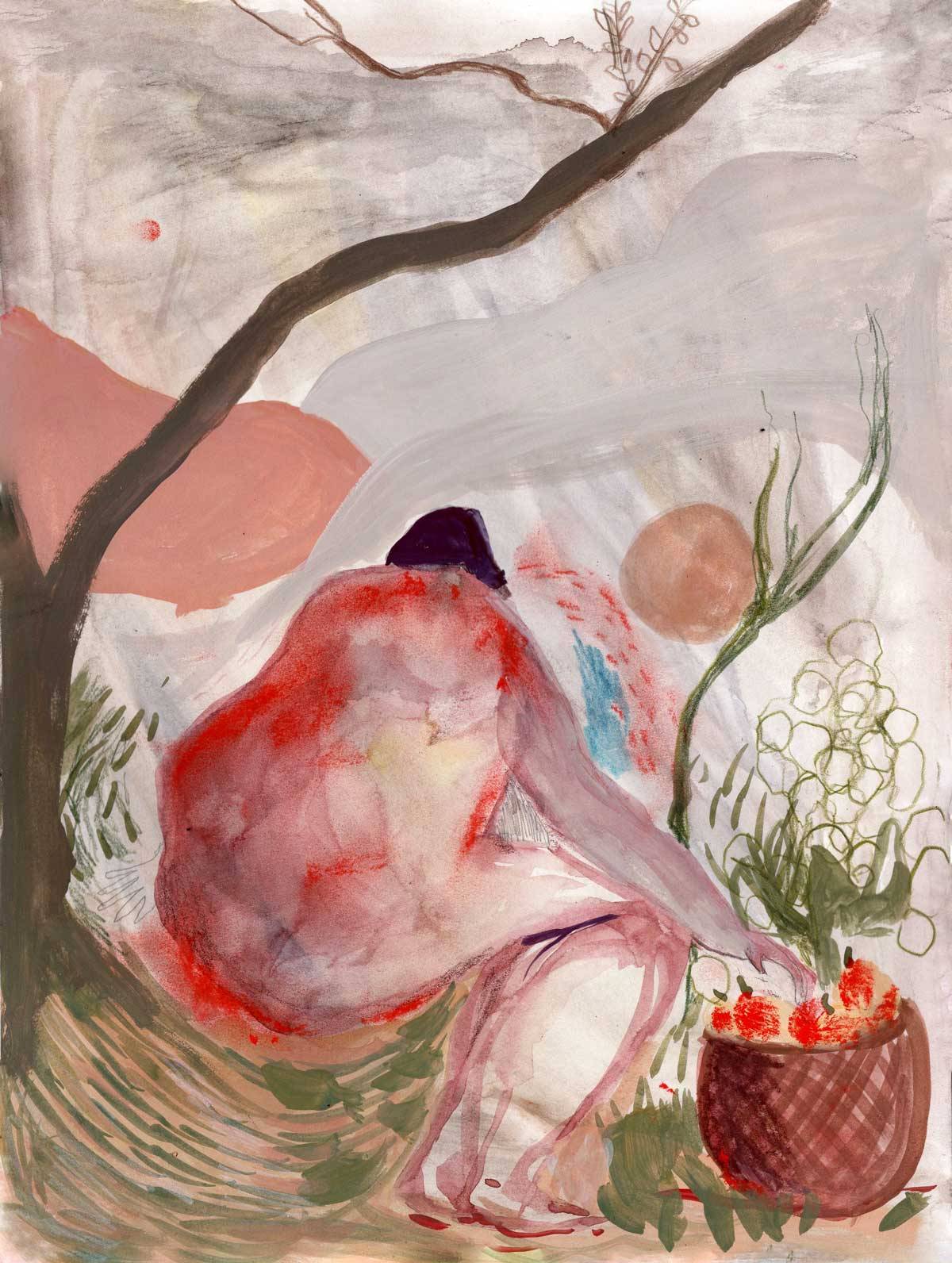 ​
​
But it wasn't only through happy experimentation. I decided to read a lot about the practice though sometimes I fell asleep reading the theory, but I began to understand, and peel away from all the things I encountered superficially. I began to research artists whose marks, choice of colours, texture, and composition were arresting and kept me lingering over their work.
​
So here are a few of my notes:
​
From the book Drawing from Within by Nick Meglin, 2008
​
"No one can teach you how to draw. Where art education often fails is in the premise that drawing can be taught. It can't. Then how does one learn to draw? One doesn't! One draws! The education of an artist is the result of their experiences of drawing.
​
"When you're drawing from within, you chief concerns should be what and why rather than HOW a drawing is done"
​
"Artists need to draw it out not think it out"
"Personal work reacts to and incorporates new, ever-changing stimuli. Renderers (those who put technique before expression) control. Artists lose control. It's as simple as that. The satisfaction for a renderer is how close to the envisioned finished work he came. For the creative artists, it is a search for the unknown by way of an uncharted course."
​
​
​
From the book: The Drawing Projects by Mick Maslen and Jack Southern, 2010
​
​
"A drawing of a tree shows not a tree but a tree being looked at"
​
'One must always draw. Draw with the eyes when one cannot use a pencil."
​
"Draw everywhere and all the time. An artist is a sketchbook with a person attached."
​
"Process is more important than outcome. When the outcome drives the process, we will only ever go to where we've been. When process drives outcome, we may not know where we are going, but we will know we want to be there"
​
​
From the book Sketchbook for the artist by Sara Simblett
"Decide before you start whether you are
Drawing to warm up
To discover how to use materials
Express the beauty of a moment
Experiment
Protest
Illustrate a dream… etc."
​
​
How do these feel?
​
For me, these books gave me so much freedom. I ask myself how I felt while drawing. I focus a lot on sensation, and of course, I throw a lot to the recycling bin.
​
Just this week I was happily drawing with oil pastels, and I made a huge mud. I glued the pages together and moved on.
​
Have you read any good books about your practice lately?
​
​
---
​
What's new in Flowarte
​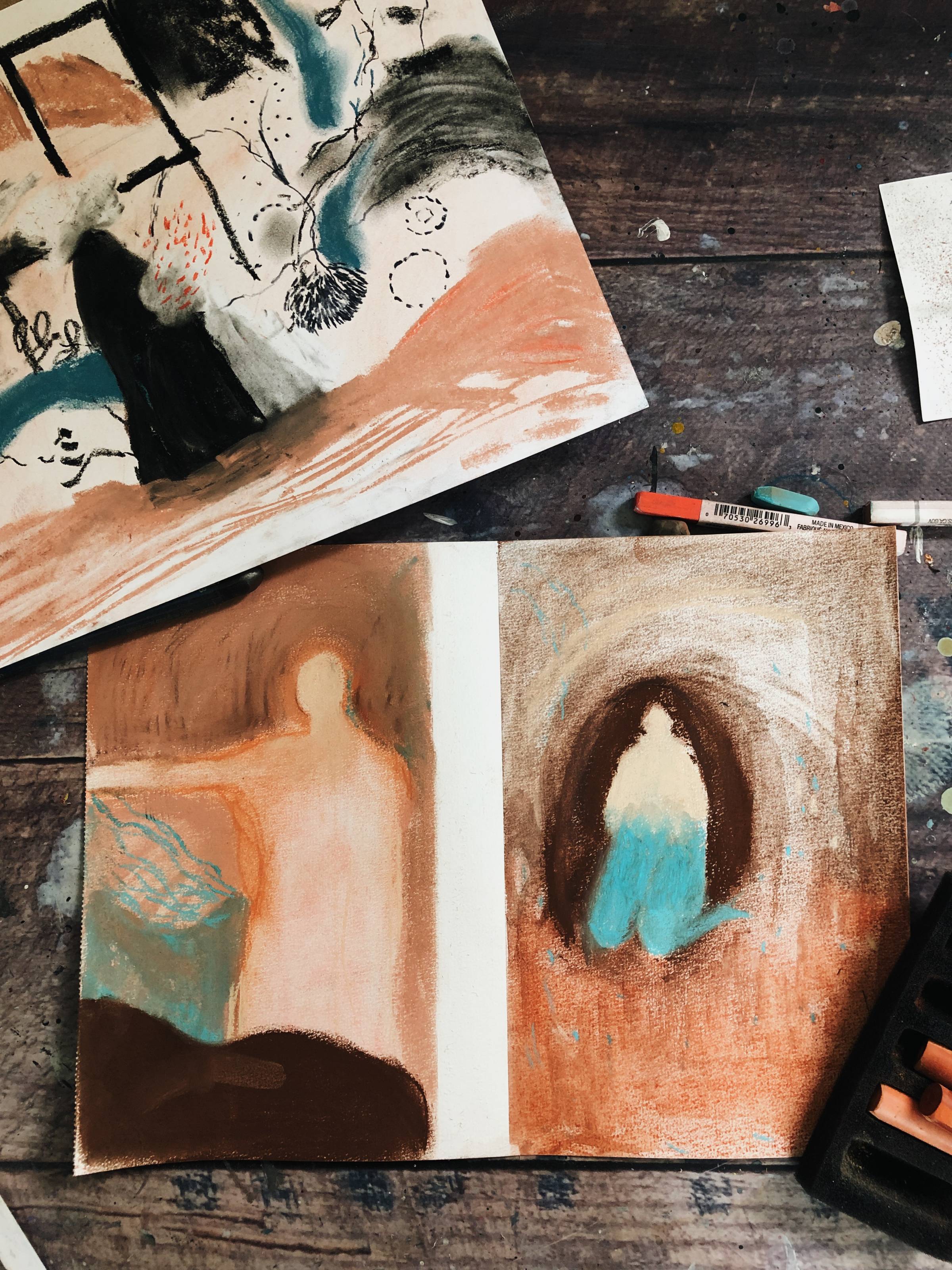 ​
​
My artist website
I may have shared this before but this year I finally felt ready to create a website for my visual art. It's taken me so long because I felt I still needed to get a body of work together. But now I'm starting to dip my toes into this mysterious world of fine art.
​
+
​
​
Patreon:
After a few months of fiddling with Patreon, I decided to keep single-tier: $5.
You have access to everything I've published, including demo videos, sketchbook tours, monthly updates and the occasional co-creation session. If you enjoy this newsletter, you might like it there! ​
​
The Domestika Roadmap
There are a lot of Domestika classes. And lately it's a bit tricky to recognize which ones are actually going to move my practice forward.I reorganized the resources page, and now it is more of a roadmap for people who are just starting out with drawing to the classes tackling a big project can help you combine several skills at once. Take a look! ​
Plus, a 10% discount!
LUISA_FLUXGUSTO-ROADMAP
​
​
A brand new Notion Dashboard: The Art Studio
It's the dashboard I use to keep all my art practice in check. It's like stepping into another room in my Notion.
It includes the Art Journal and the Project Box Templates, plus a few other databases that will keep your work contained.
​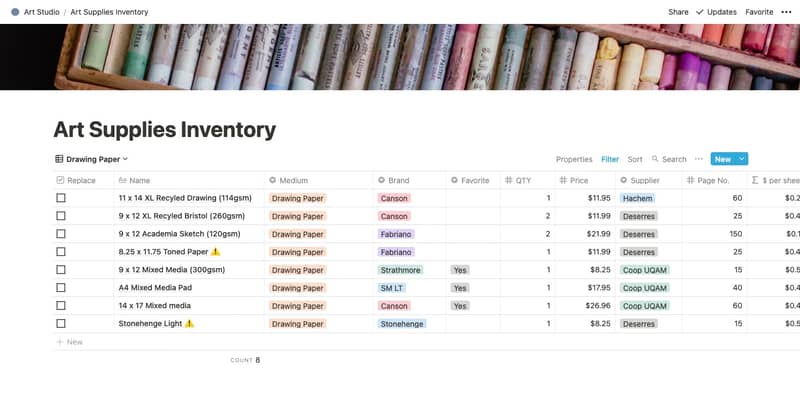 ​
​
​or watch a video where I go through it.​
​
​
​
I hope you are enjoying your summer!
As usual, if you want to chat about your practice, you can write to me.
​
P.S. Song on loop​
P.P.S. Spending a bit of time on Twitter are you?
​
​
Best,
Luisa
​
​
​
​